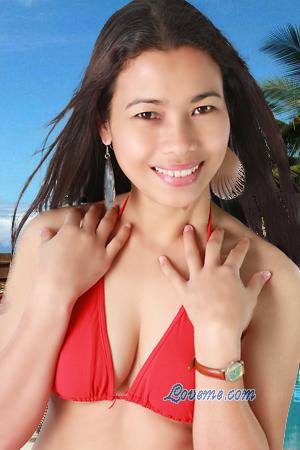 115963
Germa
Philippines
City: Davao City
Age: 34
Birth Date: 4/20/1976
Weight: 110lb, 50kg
Height: 5'0", 152cm
Measurements: 34-25-35
Measurements cm: 86-64-89
Eye Color: Brown
Hair Color: Black
Marital Status: Single
Children: 0
Religion: Christian
Smoker: N
Drinker: N
Education: College
Company: Private
Job Title: Caregiver
Sports: Basketball, badminton
Hobbies: Cooking, reading, music, singing


Self Description: Every one of us, unconsciously, works out a personal philosophy of life, by which we are guided, inspired, and corrected, as time goes on. it takes but a brief time to scent the life philosophy of anyone. It is defined in conversation, in a look of the eye, and in general mien of the person. It has no hiding place. It's like the perfume of the flower- unseen, but known almost instantly. It is the possession of the successful, and the happy. I'm here for love, not for games. For 34 years, I've am waiting for the man in my life. I've been hurt before by someone who has just played with my heart, and this time I hope that I can be married to the right man.. I am willing to relocate. I am at my right age, and I'm willing to marry someone regardless of age and skin color. I hope you reply. I'm already a lil desperate, but I'm still trying to be patient.

Comments: I seek someone who is loving, someone who listens, and someone who can accept me. A stable person is a plus, have a genuine concern for others, someone I can count on in times of needs, someone who is trustworthy, thoughtful, and open to many points of view, steady and has much love in his heart. Age is not an issue for me as long as we understand each other's feelings and handle the love that we have.